What our Customers are saying about DIY Liquid Rubber Waterproofing

Hi  Alison,
Thankyou for your advice and the bandage which we have put to use.
We have found Liquid Rubber to be a very easy product to use on our paddleboat roof and upper deck.
We are now looking forward to rain so that we can test your product and put the bucket chandeliers away!
I have attached three photographs to this email of our paddleboat Evangeline.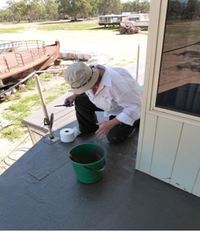 Hi Paul,

We use Liquid Rubber all the time as Maintenance Crew for retail remedial works - particularly roofs - it is a fabulous product, easy to use and cost effective.

Ian from Westfield Maintenance Geelong Vic